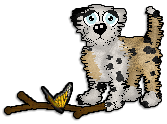 bentley II is my famous dali who has become the official mascot of funfetti.

his birthday is april 22, he loves the colors yellow and blue, cheese is his preferred flavor, and his favorite toy is the rubber star ball ☆

he was the first pet that i decided to naturally raise when i rejoined the pc. you can check out the whole thread documenting it all right here on the duke's group forum.

however, let's backup a bit, because he has quite the interesting backstory! his ancestor, bentley I, was very popular in the pc for a couple of different reasons; the first being how downright handsome he was - a fuzzy dali with icy blue eyes, half-cream fur, with a perfectly matched cream chest patch. i literally gasped the day i bred him. there were a ton of breeding requests for him on my whiskerwick breeding service, and lots of fellow pc members ended up adopting his puppies.

the second reason, well, it ended up being referred to as the bentley curse. one day on petzcord, we were all discussing a very odd phenomena that a bunch of us were experiencing all at once. some of our new dogz would not pose for us! as we all began to look further into it, we noticed that all of these non-posing dogz had near 100 independence and had bentley in their family tree. i quickly checked bentley's independence value to see that it was 97 - yikes! his genes were so beautiful, yet so frustrating, and ended up causing a plethora of terrible show dogz - haha!

in early 2021, i experienced a computer crash and ended up losing bentley I. this was quite heartbreaking to me, as he was one of my favorite petz. but, the incredible petz breeder salem came to my rescue! she surprised me by breeding an almost identical second bentley - he even has the old bentley in his lineage! this was such a super kind and thoughtful gift that i will always be thankful for. i can only imagine how much time she spent trying to breed him for me.





salem, you truly are such a wonderful friend ♡

one of the great things about bentley II is that he has low independence! he loves to pose for the camera, and has gone on to become my very first world champion (wch) with over 100 show points. he also went on to become my first pet to ever earn his frisbee dog of excellence (fdx) and trick dog of excellence (tdx) titles.




if you've read this far, i'd like to thank you with this bentley trading card: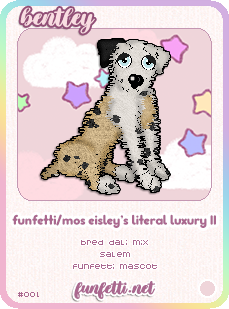 finally i'd like to share some art that i've received of bentley. penny has gifted me with some adorable little pixel pieces of bentley:



and this incredible illustration was done by akodara:
i hope my story of bentley inspires you to get to know some of your petz better. it's so fun to build a special bond with them and create lots of memories together ♡

© bunni 2022